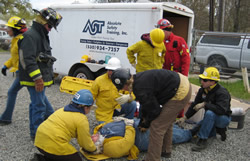 Many EMT schools offer EMT courses that teach you how to become an EMT. What sets AST apart from other EMT schools is our understanding of the EMT requirements for National Registry testing and the fieldwork expected.
AST's EMT training program is designed for the working adult, and so our EMT classes are scheduled in the evenings two days a week.
EMERGENCY MEDICAL SERVICES TRAINING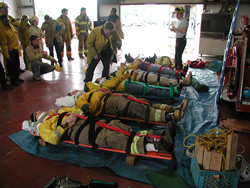 The First Responder class is 48-hours and provides basic training to prepare the student for certification. The EMT class is for those individuals interested in learning how to become an Emergency Medical Technician. This 144-hour course will prepare the student for the National Registry Examination and Certification.
By combining lecture, supervised hospital experience, ambulance operations, patient evaluation as well as treatment skills, our instructors provide a quality atmosphere for learning. Continuing Education Units (CEU) are offered as classroom lecture and skills verification for current EMT's looking to meet requirements for re-licensure.
Click Here to see all of our EMS First Responder Training Courses and EMT Course Offerings