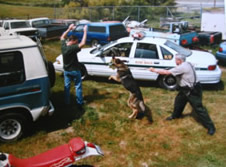 This category is focused on bringing AST's mobile training staff to your facility. This enables AST to provide on-site quality training to your personnel/staff who need instruction from the Law Enforcement perspective. AST offers statutorily required and/or mandated training, updates and re-certification, including ICS/SEMS/NIMS; Drug Recognition (DRE) and Drug Influence (11550 H&S); Police Service Canine Training, Certification and Evaluations; and First Responder Liability. Also available is Fixed Asset Threat Assessment for Schools, Hospitals, Churches, Government and Private Business buildings and residences. POST Certified Instructors are available for Pre-Service Training, Certification and Evaluation of Police Service Canine Teams. AST can bring these and other courses to your facility to improve operational safety and efficiency while reducing agency and staff liability.
AST offers WMD and Terrorism courses that meet and/or exceed the Federal Basic Awareness requirements for all First Responders. These courses address Chemical, Biological, Radiological, Nuclear and Conventional Explosives and Threats (CBRNE).
AST also has FEMA Radiation III Certified Instructors on staff. Additional courses are available at the Tech levels in dealing with radiation/nuclear accidents/incidents, as well as basic radiation safety. This would benefit agencies seeking to be prepared for potential accidents and intentional incidents involving "dirty bombs" and other radiological/nuclear dispersals. Other advanced specialized training is available to the tech level.
Please contact AST with your needs request.